The Three Musketeers
Rating: ***
Origin: USA, 1916
Director: Charles Swickard
Source: Alpha Home Entertainment DVD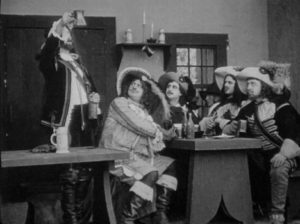 This very early version of Alexandre Dumas's greatest swashbuckler is enjoyable and, at only 50 minutes long, very fast-paced, though it only adapts the first half of the novel, the affair of the queen's diamond studs. D'Artagnan is active, Richelieu is imposing, and Queen Anne is majestically pouty. As will be typical of American film versions to follow, it makes d'Artagnan's love interest Constance into something other than Bonacieux's wife—in this case, his daughter—and had Rochefort play both his role and that of the Comte de Wardes, which occurs in almost every film version. A good early effort.