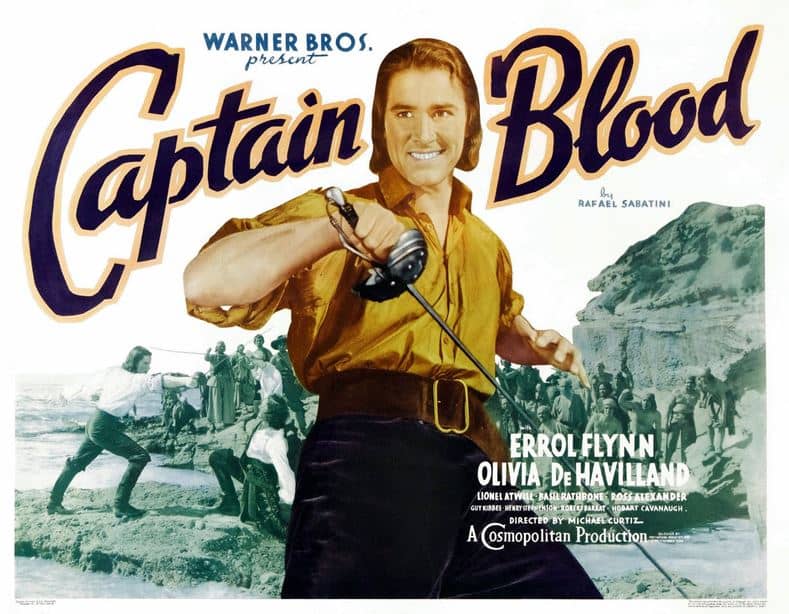 This week we're here to praise Olivia de Havilland, the great British/American screen actor who passed away last month at the age of 102. De Havilland was remarkable, not just for her stunning beauty, but for her sharp wits and indomitable spirit, all of which she brought to bear in nearly every performance. She was Hollywood's first Queen of the Swashbucklers thanks to her defining roles in Captain Blood and The Adventures of Robin Hood, which launched her career and that of her co-star Errol Flynn into the stratosphere. (De Havilland's reign was followed by that of Maureen O'Hara, but we'll talk about her another day).
No matter how many times you've seen Blood or Robin Hood, you can't help but delight in de Havilland's performances as Arabella Bishop and Maid Marian. She's far more than a mere attractive love interest for the hero, especially in the latter role, where she risks her life to save Robin Hood and the Saxons. Capsule reviews of those two films follow, and I'll warn you in advance, they're unapologetic raves. I've added a review of The Private Lives of Elizabeth and Essex, a lesser film in which de Havilland was third billed after Bette Davis and Flynn but which nonetheless has points of interest. Enjoy!
Captain Blood
Rating: ***** (Essential)
Origin: USA, 1935
Director: Michael Curtiz
Source: Warner Bros. DVD
After the success of swashbucklers Treasure Island and The Count of Monte Cristo, Warners decided to go all-in on a remake of Rafael Sabatini's Captain Blood. (There'd been a silent version in 1924, now lost.) The stars they initially had in mind for the leads bowed out, and in the end the studio took a huge risk and cast two complete unknowns: Errol Flynn and Olivia de Havilland. Luckily, they were both excellent, ideal for the roles — and even better, they had great on-screen chemistry together, so good they were paired seven more times in the next ten years. The director's chair went to studio veteran Michael Curtiz, who in 1938 would co-direct another swashbuckling essential, The Adventures of Robin Hood, before his career pinnacle helming Casablanca. Add in Basil Rathbone as the villain, supported by a slate of the best character actors in Hollywood, with a stirring soundtrack by Erich Wolfgang Korngold, and you have the makings of a true classic.
The story starts in 1685 during Monmouth's Rebellion against England's King James II. Dr. Peter Blood, treating one of the wounded, is swept up among the captured rebels and sentenced to death in the Bloody Assizes, where we first get a sense of his indomitable character. Throughout the film Blood is aflame with a mocking defiance of oppression and tyranny, but Flynn's characterization also sparkles with wry intelligence, and he delivers razor-sharp remarks with such conviction it seems he'd thought them up himself. Blood's death sentence, and that of his fellow rebels, is commuted to slavery on the plantations of Jamaica, and the crew is shipped off to Port Royal. At a degrading slave sale, Blood catches the eye of Arabella Bishop (Olivia de Havilland), daughter of one of the plantation owners, and in order to save the sullen Irishman from being bought by the most brutal rancher on the island, she buys him herself — now there's a "meet cute" for you!
The film's next half hour is this amazing back and forth as the story contrasts the luxury and brutality of colonial Jamaica with Blood step-by-step engineering an escape attempt by himself and his fellow slaves, meanwhile currying favor with the governor (only Blood can cure his gout) and engaging in a half-serious courtship dance with Arabella. (Neither of them really mean it — or do they?) Then the escape plans go awry and all seems lost, until the "timely interruption" (as Blood himself puts it) of a raid by Spanish pirates. The slaves take advantage of the chaos to turn the tables on both Spanish and English, and after some derring-do, Blood and his crew are free and in command of a fighting ship. And then, with all the world their enemy, what option do they have but to sail to Tortuga and join the Brotherhood of the Coast? However, when you ally with pirates, you must consort with such scoundrels as Captain Levasseur (Basil Rathbone) — and that might not end well.
But oh, those scenes of Caribbean piracy: the buccaneers swearing to the Articles, drunken pirates pillaging a seaport, freebooters roistering in the taverns of Tortuga, the boarding actions — "Grappling hooks to larboard!" They've all been done many times since, but never better, to my mind. The rapier duel in the surf between Flynn and Rathbone fighting over the captured de Havilland is worth the price of admission alone. Guilty pleasure: Basil Rathbone's outrrrrrageous French accent.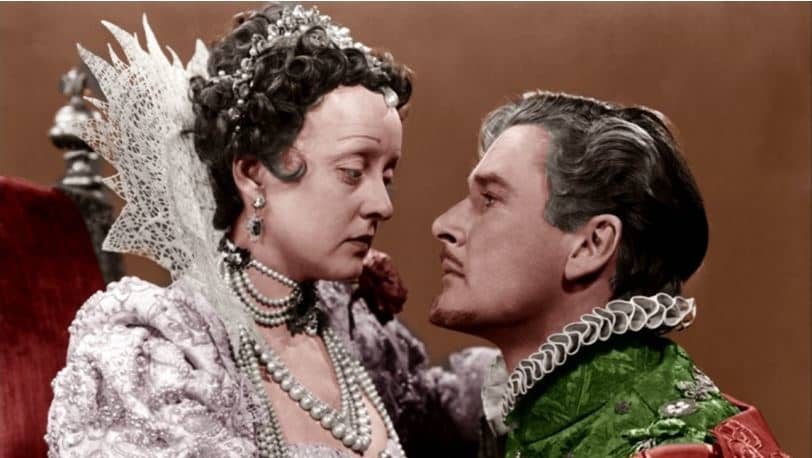 The Private Lives of Elizabeth and Essex
Rating: ***
Origin: USA, 1938
Director: Michael Curtiz
Source: Warner Bros. DVD
This film tells the story of the doomed romance between Queen Elizabeth I (Bette Davis) and the Earl of Essex (Errol Flynn), their love thwarted by the machinations of rival courtiers and by the lovers' own unbending pride. Based on a hit 1930 play by Maxwell Anderson, it's darker and talkier than most Flynn vehicles, and Bette Davis famously didn't want him for the role, afraid he didn't have the dramatic chops for it. She preferred Laurence Olivier — but as it happened the part suited Flynn and he did just fine, as Davis herself admitted years later.
Elizabeth and the much younger Essex adore each other but can't get along because each is ambitious to rule. As a result, Essex is always getting sent away from Court, and when separated he and Elizabeth both get to gnash their teeth and pine and yearn. Meanwhile in the palace, quarreling and conspiring, are the royal courtiers, vicious rivals to Essex played by a fine bunch of English actors, including Henry Stephenson, Donald Crisp, and Henry Daniell — though all are overshadowed by the delightfully supercilious Vincent Price as Sir Walter Raleigh. Wow, he's good, even wearing ridiculous silver armor and pink trunk hose for the purpose of being mocked for it by Essex. Also at Court is Olivia de Havilland as a lady-in-waiting who's pining for Essex, but her brains and poise are mostly wasted here, as the role gives her little scope for them. At least she gets to be called a "brazen wench" and "shameless baggage" by Davis.
This is a top-of-the-line production, in brilliant Technicolor, with fabulous costumes by Orry-Kelly and a swooning score by Erich Wolfgang Korngold. It looks great. The bickering between Elizabeth and Essex does get tiresome, though to their credit Davis and Flynn manage to carry it off. By the time the smirking courtiers manipulate Essex into undertaking a hopeless invasion of Ireland, we're ready for some swordplay as a break from the wordplay. Of course, it all goes wrong, as invading Ireland is always a sucker move. And there among the bogs Essex is defeated by — oh, ignominy of ignominies — the wretched Alan Hale, Sr., as Lord Tyrone. Beaten, Essex returns to England, and yet more angst. There's still a good deal of playwright Anderson's talk ahead before the final, tragic end — and fine talk it is, too. You might like it.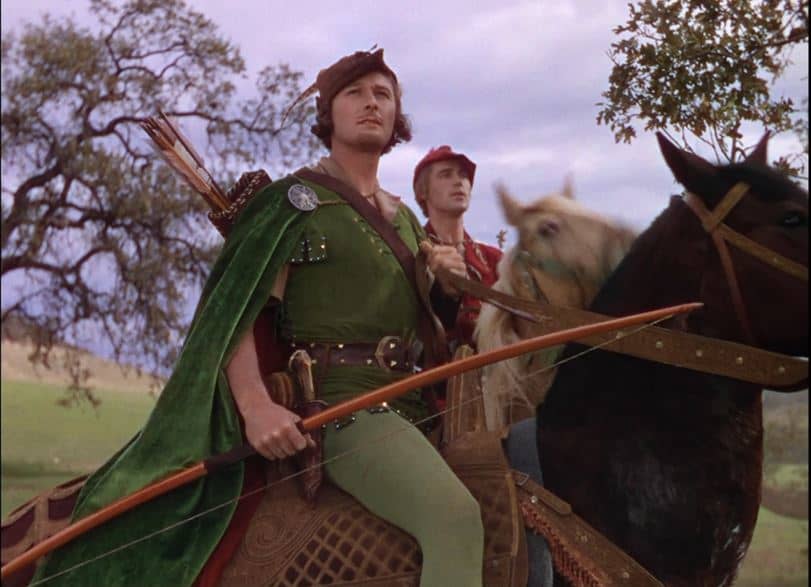 The Adventures of Robin Hood
Rating: ***** (Essential)
Origin: USA, 1938
Director: Michael Curtiz and William Keighley
Source: Warner Bros. DVD
This is a nigh-perfect film — as you know, because you've seen it (and if you haven't, then I'm very sorry, but we can no longer be friends). Let's just mention in passing some of the many reasons why you'll want to watch it again sometime soon:
— The matchless and heart-uplifting romantic chemistry between Errol Flynn and Olivia de Havilland
— The rich and vivid look of this many-hued Technicolor fairy tale of the Middle Ages
— The edgy interplay between the unforgettable villains, Basil Rathbone, Claude Rains, and Melville Cooper
— The best Merrie Men ever assembled on screen, most memorably Eugene Pallette as Friar Tuck
— The brilliant script, witty, terse, thoughtful, romantic, and inspiring
— The rousing, Oscar-winning score by Erich Wolfgang Korngold
— That final climactic battle and duel in Nottingham Castle
Many 55-gallon drums of ink have been spilled praising, analyzing, dissecting, and interpreting this film, for which the word "classic" almost seems to have been invented. I'll just cite a few things you might not have heard or considered. First, for a film that was perfectly cast, it's curious that the initial choice of director was not as on-target (archery reference intentional). William Keighley, who had directed Flynn in The Prince and the Pauper, occupied the director's chair for the first half of the movie's extensive shoot, but he turned out to have no knack for lensing large-scale action scenes, which were essential in a film intended to evoke the spirit of Flynn's predecessor Douglas Fairbanks, Sr. So halfway through production Keighley was replaced by the more versatile Michael Curtiz, who had also directed Flynn before (in Captain Blood). It was Curtiz who helmed the fights and chase scenes, the arboreal antics in Sherwood Forest, and the battle in the castle.
Then there's Erich Wolfgang Korngold's personal tale of involvement with the film. An Austrian Jew, the famous composer and his family were natives of Vienna, where in early 1938 he was engrossed with completing a new opera for performance later in the year. But the opera was postponed, so when the call came from Warner Bros. asking him to do the music for Robin Hood, Korngold was unexpectedly available. Shortly after he arrived in Hollywood the news came from Vienna that the Anschluss, Hitler's merger of Austria into Germany, was imminent. Korngold instantly sent for his family to join him, and they got out of Austria on the very last train before travel for Jews was interdicted. It was a daring escape for his family, and poetically appropriate for the composer to a film about resistance to tyranny. Thereafter Korngold always said that his and his family's lives had been saved by Robin Hood.
Back to the movie: you know those sheriff's goons who looked like they got shot in the chest with arrows? They got shot in the chest with arrows. Each wore a chest plate of metal to stop the arrow, covered with a slab of balsa wood so the arrow would stick. A $150 bonus compensated for the risk, pain, and shock.
Our final fun factoid involves "Golden Cloud," the horse ridden in the film by Lady Marian. Another Hollywood character, Roy Rogers, was so taken with Golden Cloud's looks and obvious intelligence that he made inquiries, and eventually bought the horse from Warner Bros. Rogers took Golden Cloud over to the Republic Pictures lot, renamed him Trigger, and made him the most famous horse in Hollywood.
Now go watch The Adventures of Robin Hood again. You know you want to.
---
LAWRENCE ELLSWORTH is deep in his current mega-project, editing and translating new, contemporary English editions of all the works in Alexandre Dumas's Musketeers Cycle. Three volumes are in print, with the fourth, Blood Royal, coming from Pegasus Books this fall. His website is Swashbucklingadventure.net.
Lawrence Ellsworth's secret identity is game designer LAWRENCE SCHICK, who's been designing role-playing games since the 1970s. He now lives in Dublin, Ireland, and is co-designing a new mobile RPG for the WarDucks game studio.