Book Seven of the Musketeers Cycle
By Alexandre Dumas, Edited and Translated by Lawrence Ellsworth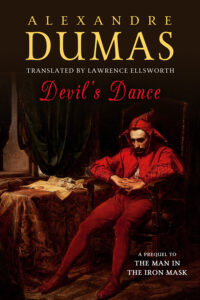 Devil's Dance: Book Seven continues the adventures of d'Artagnan, Athos, Porthos, and Aramis at the court of King Louis XIV. Duels and danger in a deadly love triangle as Louise de La Vallière, the fiancée of Athos' son Raoul de Bragelonne, falls head over heels for none other than the king himself!
Devil's Dance is the third and central book of our five-volume edition of Alexandre Dumas' mega-novel Le Vicomte de Bragelonne, to be followed by Shadow of the Bastille and the concluding title, The Man in the Iron Mask.
Devil's Dance is running now in chapter-by-chapter serial form in weekly episodes on the Substack platform. Check it out!