Rashomon
Rating: *****
Origin: Japan, 1950
Director: Akira Kurosawa
Source: Criterion Collection DVD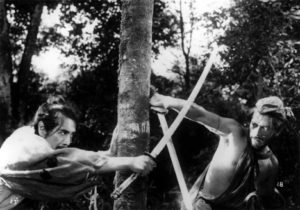 Although this is director Akira Kurosawa's first samurai film, it arguably doesn't belong in this series, as it's not really a chambara—a swordplay movie—but rather a historical crime tale. You probably have a general idea of what it's about even if you've never seen it, as its title has become the nickname of the principle of the unreliable narrator, the same story told differently from several different viewpoints. In this case it's the history of a crime, a rape and a murder in a lonely grove on a remote wooded mountain. The tale is told from four different points of view, and the viewer is left to tease out the truth for themselves.
The film stars Kurosawa's favorite leading man, Toshiro Mifune, as a fierce and antic bandit, a character that prefigures his unforgettable Kikuchiyo in The Seven Samurai (1954)—and several other actors familiar from that masterpiece show up as well. It's a striking movie, gorgeously shot in a sun-dappled forest and a relentless downpour, displaying the firm grasp Kurosawa has of the movie-making art even this early in his long career. There's even a touch of the ghost story to it, as the murdered man tells his version of events. And of course there is that one pivotal sword duel between the samurai (Masayuki Mori) and the bandit—which is one more than you'll find in The Scarlet Pimpernel (1935), so I guess this film qualifies after all.