The Prisoner of Zenda
Rating: *****
Origin: USA, 1937
Director: John Cromwell
Source: Warner Bros. DVD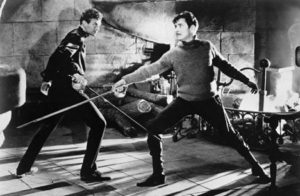 David Selznick bought the rights to The Prisoner of Zenda specifically as a starring vehicle for Ronald Colman, who was at the height of his fame coming off Lost Horizon (1937). Colman, of course, was cast in the dual role of Rudolf Rassendyl / King Rudolf, and Selznick surrounded him with a first-rate cast, including the glowing Madeleine Carroll as Princess Flavia, and C. Aubrey Smith and his whiskers as the king's loyal Colonel Zapt. But best of all are the villains: Raymond Massey, looming and ominous as the would-be usurper Black Michael, and Douglas Fairbanks, Jr., as the raffish rogue Rupert of Hentzau, who steals every scene he appears in (as Rupert does in every version of Zenda).
The story sticks pretty closely to that of Anthony Hope's 1894 novel—and if you're not familiar with it, why are you wasting time reading this? On the eve of his coronation, King Rudolf of Ruritania is kidnapped, but his loyal aides convince his lookalike English cousin to stand in for him. While impersonating his royal cousin, Rassendyll falls in love with the king's betrothed, Princess Flavia—and she with him. Heartbreak ahead! Meanwhile, good guys Colonel Zapt and Fritz von Tarlenheim (a very young David Niven) are in a desperate dance with the villains, as nice and nasty try to outmaneuver each other before their various threats and ultimatums erupt in violence.
There's so much to love in this movie: drugged wine, secret passages, throwing knives, and brooding Castle Zenda, so medievally murderous it's practically a character unto itself. The outrageous helmets and embroidery-crusted uniforms of the Ruritanian nobles and guards cannot be improved upon. And everybody wears monocles! So fine.
In the end it all comes down to swordplay, of course, in a climactic duel filmed by James Wong Howe, who projects the duelists' shadows thrice life-size on the walls of Castle Zenda. (Yes, this is where that trope originated.) The Oscar-nominated soundtrack is by Alfred Newman. Watch for Mary Astor in the small but pivotal rôle of the adventuress Antoinette de Maupau. Fun factoid: When the first theatrical production of Zenda was the hit of the London stage in 1896, the dual role of Rudolf and Rassendyll was played by … C. Aubrey Smith. (Pre-whiskers!)