Crimson Pirate
Rating: ***** (Essential)
Origin: USA, 1952
Director: Richard Siodmak
Source: Amazon Streaming Video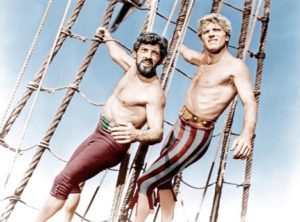 This isn't the first swashbuckler farce, but it is the first great one, a hoot and a half from beginning to end. Burt Lancaster immediately sets the tone by breaking the fourth wall: high atop a ship's mast, he does an aerial stunt, grins at the audience, and says, "Believe only what you see!" Then he does the stunt backwards by reversing the film and says, "Well, believe half of what you see!" Then it's "Sail ho!" and we're off to the first ship battle.
This film is set in the revolutionary 1790s, so we're in Scarlet Pimpernel territory, and indeed the original script by the blacklisted Waldo Salt was a serious anti-aristocratic call to arms. According to the memoirs of Christopher Lee, who has a small part here as a king's officer, director Richard Siodmak quickly rewrote it into a cartoony self-parody, full of action but high spirited and frequently hilarious. The chase scenes often bring to mind another Warner Bros. franchise, the Looney Tunes of Chuck Jones and Friz Freleng—and that's meant as a compliment. It even has a fine antic soundtrack by William Alwyn with a catchy main theme that evokes both sailing and circuses.
The setting is a bit fantastical in that the pirates are opposed by the troops and navy of "the King," an unnamed imperial monarch who combines elements of England and Spain. However, the exterior scenes, which are most of them, are shot on the Italian island of Ischia, with its medieval town, harbor, and port, which grounds the production in reality. And it needs that grounding, because Lancaster and sidekick Nick Cravat, his old circus partner, are in full-on bounding-acrobat mode, knocking down rows of soldiers with barrels, driving Da Vinci-inspired steampunk tank-wagons, and dive-bombing the king's troops from a hot-air balloon. There's a solid liberate-the-people revolution 'n' romance plot to support all these shenanigans, with good performances from Eva Bartok as the spunky liberator's daughter, Leslie Bradley as the ruthless aristo villain, and best of all Torin Thatcher as Humble Bellows, the pirate crew's scurvy by philosophical first mate. But really this is the Flying Burt and Nick Show—Lancaster even gets to act a bit as his Captain Vallo gradually falls in love with the liberator's daughter and grows some newly uncomfortable scruples. The best scene may be when Nick and Burt, the latter impersonating the villain, crash the island governor's fancy ball wearing outrageously foppish finery, Burt grinning like the Cheshire cat and Nick eyeing all the ladies' jewelry through a gilded quizzing glass. It's just so hard to choose!