The Conqueror
Rating: *
Origin: USA, 1956
Director: Dick Powell
Source: Universal DVD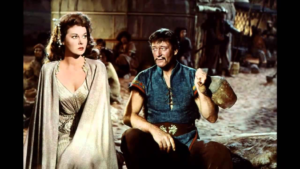 This is the legendarily-awful Howard Hughes-produced turkey in which Big John Wayne is incredibly miscast as Big Genghis Khan. However, miscast though he was, Wayne got the part because he wanted it, and you can see why: the role fulfills the male barbarian fantasy in which manly men kneel to you because you're the toughest, the loudest, and most brutal, and desirable women love you even though you beat and sexually assault them because they just can't help themselves. Also, Mongol mustaches.
Nothing in this noisy shambles of a movie makes a lick of sense, it's just nonstop riding and raiding and abductions and surprise attacks, which always work because everyone on every side is a total dope who will fall for anything. Wayne's "blood-brother" Jemuga (Pedro Armendariz), supposedly a brilliant tactician, gets captured no less than three times by his enemies, which are everybody. The Mongols hate the Merkits, the Merkits hate the Tartars, the Tartars hate the Mongols, and everybody hates the Han Chinese. (Accurate.) There are plots and counterplots, and everybody goes blundering about the desert at a full gallop while waving their swords.
But what you want to know is, is this travesty just bad-bad, or is it hilariously funny-bad? Given John Wayne's bombastic delivery of his ever-cringeworthy dialogue, it definitely skews toward the latter. Hearing Wayne say stuff like, "Dance, Tartar woman—dance for Temujin!" or (to Agnes Moorehead) "You didn't suckle me to be slain by Tartars, my mother!"—I mean, it's just wonderful, and there's so much of it, because he never shuts up. "She's a woman, very much a woman. Could her perfidy be less than that of other women?" You can't ask for better entertainment than that.
Except for one lone Asian actor, cast as a treacherous Chinese shaman, every speaking role is filled by a Hollywood Caucasian, most of whom are unable to imitate Wayne's enthusiasm for their lines, mostly looking vaguely embarrassed (except for Robert Conrad and Lee van Cleef, who are shameless, as you would expect). Poor Susan Hayward as "the Tartar woman," one of the foremost leading ladies of her day, just pouts angrily in every scene, except when she has to pretend helpless passion for Wayne. Alas, the film was entirely shot just downwind of a 1950s atomic testing range, and by the 1970s the director and nearly all the leads had died of cancer, which also afflicted the rest of the cast and crew at three times the normal statistical rate. A sad coda for what is otherwise a sort of trash masterpiece, but to quote the Conqueror himself, "What venture is without hazard?"