Throne of Blood
Rating: *****
Origin: Japan, 1957
Director: Akira Kurosawa
Source: Criterion DVD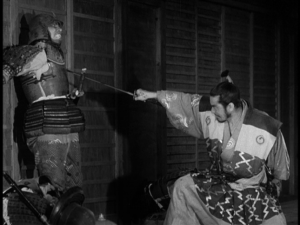 This is a stark, brutal, black-and-white adaptation of Macbeth that relocates the story from medieval Scotland to samurai Japan, replacing Shakespeare's sonorous language with the stylized imagery of classical Noh theater—so, yeah, it's not a movie for everybody. It's a fast ride to Hell on the horses of greed, ambition, and betrayal, with few (if any) sympathetic characters, shorn of even the lukewarm reassurance found in Shakespeare's moralistic finale. Bummer.
But if you can get past, or even embrace all that, you'll find that director Kurosawa's third samurai film is rich with vivid scenes you'll never forget. The encounter in the haunted forest between Generals Washizu (Toshiro Mifune) and Miki (Akira Kubo) with the pale and malevolent witch who foretells their fates. The brooding intensity of the murder scene in which Washizu's wife, Lady Asaji (Isuzu Yamada), hands him the spear with which he is to assassinate their guest, his reigning lord, and her tense wait for him to return, shaken, his hands clotted with blood. The siege of the great black castle on the barren slopes of Mt. Fuji where Washizu, now the reigning lord himself, pays the price for his betrayals in a hissing storm of hurtling arrows.
Most of all, you'll remember the coldly poisonous voice of the relentless Lady Asaji, and Lord Washizu's panicked glances from behind his fierce martial visage, the look of a trapped animal who sees no way to go except deeper into the trap. Yes, it's very different from an uplifting action movie like The Seven Samurai in which heroic warriors fight desperately against the odds, but on its own terms, Throne of Blood is a very great film indeed.