Rogues of Sherwood Forest
Rating: **
Origin: USA, 1950
Director: Gordon Douglas
Source: Columbia / Sony DVD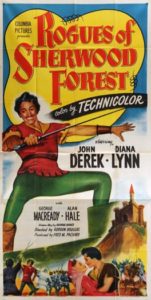 Like The Bandit of Sherwood Forest (1946), this is another story of the son of Robin Hood, of King John, and of the Magna Carta. Young Robin (John Derek) has inherited the title of Earl of Huntingdon, and has just returned from the Crusades with Little John (Alan Hale, Sr., reprising the rôle he played opposite Fairbanks in '22 and Flynn in '38). He encounters treachery at the tournament where, under the eyes of the exceedingly blonde royal ward, Lady Marianne (Diana Lynn), Robin is to joust against a Flemish knight with the absurd name of Sir Baldric. (Right?) Baldric's lance is secretly pointed where Robin's is bated, but Robin wins anyway, which vexes evil King John (George Macready). Curses!
Angry John repairs to the same castle set we see in all these postwar Robin Hood flicks, bringing his henchmen along so he has somebody to snarl exposition at: thanks to the foolishly liberal policies of the late King Richard, it seems the barons have acquired a measure of autonomy John wants to crush. But he needs money to hire mercenaries, so he resorts to the usual means to pay for a bloated military budget, by raising taxes on the commoners to oppressive levels. Soon Robin and Little John have given up their Crusaders' armor for green tights and are riding around resisting tax collectors. They get captured in a brawl in Nottingham square, and we're off to the usual routine of defiance, imprisonment, escape, and rallying the yeomen.
This is another of those California Robin Hood films in which everyone has horses and there's a great deal of gratuitous galloping, troops of charging horsemen splitting left and right just before they ride over the camera. The movie breaks no new ground, and in fact goes out of its way wherever possible to evoke and emulate The Adventures of Robin Hood, which had been re-released to great success in 1948. But apparently no one thought to hire Fred Cavens to coach the fencers, because the swordplay here is embarrassingly lame. The too-handsome John Derek looks pretty in his jerkin and tights, but he can't act worth a farthing. Alan Hale, Sr. is making his last appearance in a feature film, and he's visibly tired and barely getting through it. Only the ever-reliable George Macready shows any fire, so much so that toward the end you almost start to root for him. But he can't fight history, not in a film that's based on one actual-factual event, and he's finally forced to affix the royal seal to the Magna Carta that delimits the monarch's powers. Curses!