Fire Over England
Rating: ****
Origin: UK, 1937
Director: William K. Howard
Source: Nobility Studios DVD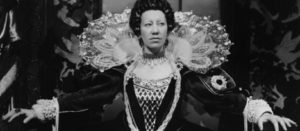 This film was adapted from the 1936 novel of the same name by A.E.W. Mason, the English historical fiction author best known for The Four Feathers (1902). Producer Alexander Korda was looking for a suitably inspiring and cautionary tale that would evoke the rising threat of Hitler's Germany, and he found it in this story of England's resistance to Spain's warmongering King Philip and his invading Armada. Korda was also looking for a vehicle with a romantic subplot to show off his drop-dead gorgeous new stars, Laurence Olivier and Vivien Leigh, who were already lovers off-screen. However, as undeniably attractive as Olivier and Leigh were, this picture really belongs to the actors in the rôles of the opposing monarchs: Raymond Massey as King Philip II, and the unforgettable Flora Robson as Queen Elizabeth I.
It's 1588, mighty Spain threatens tiny England, and at the English Court, Spanish spies are everywhere, and assassination plots threaten the life of the queen. In her audience hall, Elizabeth receives the Spanish Ambassador, come to complain of Francis Drake's raid on Cadiz, which burned a Spanish fleet. Robson's Elizabeth immediately establishes herself as a commanding presence, adroitly alternating between defiance and conciliation; she refuses to reign in Drake and the sea rovers, but gives Spain leave to punish them … "If they can."
The perilous situation established, cut to a boarding action at sea, where Michael Ingolby (Olivier), in a fine gleaming back-and-breast, leads a crew of English sea dogs onto the deck of a Spanish galleon. But the attack goes wrong, the Englishmen are overwhelmed, and Ingolby and his father the captain are taken to Spain in irons. There bad turns to worse, and by the time Ingolby escapes to return to England, there are terrible crimes to avenge.
Meanwhile, back in London, all is plots and intrigue. Ingolby is reunited with his beloved Cynthia (Vivien Leigh), one of Elizabeth's ladies-in-waiting, but their time together is short. After Ingolby saves the queen from an assassin, she gives him a new mission, to impersonate a Spanish agent and return to Spain as a spy.
Madrid: enter King Philip, calmly commanding, "Employ rigorous means. Only by fear can people be made to do their duty—and not always then." Philip is a cold tyrant, all domineering intellect driven by a frigid religious zeal. There unfolds a desperate duel of wits between the suspicious king and the impersonating young spy that is the shadow of the war between Spain and England, the fulcrum upon which the whole plot pivots. Philip's lip curls, complications ensue, swashbuckling happens, and Ingolby hastens back to England just ahead of the sails of the Armada. All the plots and intrigues collide as Robson, magnificently, rouses her realm to resist the Spanish Armada for the exciting climax, in which Ingolby plays a key part. (Two words: fire ships!)
This is a handsome film, shot by the great Chinese-American cinematographer James Wong Howe, but like most of the pre-war Korda pictures it's fallen into the public domain, and it's hard to find a good, clean digital transfer. Nobility Studios have done a painstaking restoration, and it's their version I recommend. Watch for James Mason in a small, uncredited role as the traitorous Englishman Hilary Vane.